In honor of Pride Month, Kinaxis Diversity, Equity and Inclusion committee member and LGBTQ2S+ Employee Resource Group co-lead, Ashton Hayward, is sharing some of his own knowledge and experiences with us. Please take a moment to read below, learn a little bit more about the importance of Pride month and what role you can play in supporting the LGBTQ2S+ community in June and beyond!
Pride Month is a reminder to honor those who paved the way for us, those who protested and rioted for our basic human rights, and those who were murdered for living their lives authentically. It's an opportunity to educate ourselves about the community, past and present. It's an opportunity to rally against the injustices being carried out all around the world, even while we celebrate the progress that we've made. It's a reminder to stand up for what and who you believe in, not just during Pride Month, but all year round.
Learn the facts
There are many different acronyms and terms for the community of people who have a non-traditional experience of gender and sexuality – for the purpose of this post I have chosen to use LGBTQ2S+ (Lesbian, Gay, Bisexual, Transgender, Queer/Questioning, 2 Spirit, and 'plus', which represents all other identities and experiences).
America's first Pride parade was held on June 28, 1970 on the one year anniversary of the Stonewall Riots. Their official chant was "Say it loud, gay is proud."
Forty-six percent of LGBTQ2S+ workers in the US are closeted in the workplace; 59 percent of non-LGBTQ2S+ workers believe it's unprofessional to discuss gender identity and sexuality in the workplace (Source).
The rainbow flag as we know it today has six colors, but the original 1978 version by artist Gilbert Baker had eight (pink and turquoise were removed because the fabric was too hard to mass-produce). Each color of the flag has a literal meaning – read more about them here.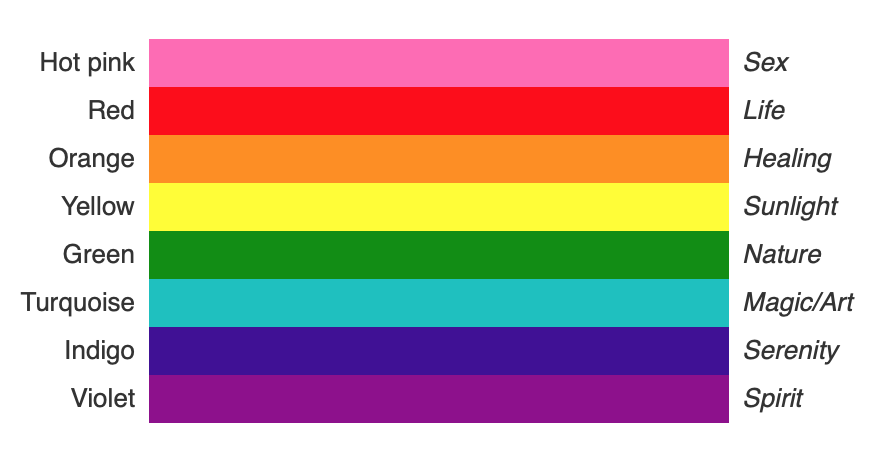 There are hundreds of different pride flags, each representing a different facet of the LGBTQ2S+ community. Here are some of the most well-known:
| | | |
| --- | --- | --- |
| Progress pride (represents many identities in one) | Asexual pride | Bisexual pride |
| By Paul2520 - paul2520 created the SVG based on the original Daniel Quasar version, which was released under a Creative Commons Attribution-NonCommercial-ShareAlike 4.0 International License [1] ., CC BY-SA 4.0, Link | By AnonMoos (SVG file); AVEN (flag design) - This vector image includes elements that have been taken or adapted from this file: Asexual flag.png, Public Domain, Link | By Michael Page - https://web.archive.org/web/20120204070907/http://www.biflag.com/Activism.asp , Public Domain, Link |
| LGBTQ+ pride | Transgender pride | Lesbian pride |
| By Guanaco and subsequent editors - SVG source (version of 17:56, 30 Sep 2011), Public Domain, Link | By Dlloyd (SVG) based on Monica Helms design, Public Domain, Link | By Taqwomen/ShimmeringAtoms - https://official-lesbian-flag.tumblr.com/post/176505133364/official-lesbian-flag-been-doing-some-research , CC0, Link |
Coming out (again)
Coming out refers to the process of accepting your sexual orientation and/or gender identity and sharing it openly with others. The key term here is process. Coming out isn't a one-time event for LGBTQ2S+ people, it's a long and complex journey that can last an entire lifetime. I couldn't tell you how many times I've come out in my life, whether it was about my sexuality or my gender. I wanted to share some of the experiences I've had to show the wide variety of reasons and reactions there can be to coming out.
At 17, I came out to myself as bisexual, after realizing I had a crush on a friend of the same sex.
I came out to friends in high school as bisexual (most of them were not surprised…).
While working at a business that didn't support the LGBTQ2S+ community, I told a trusted coworker about my partner and it helped me feel a little safer in that environment.
I came out to my roommate in university by casually mentioning my partner. She took it in stride, and I later found out that she was bisexual too.
I came out to myself as nonbinary over the course of several months – a time filled with fear, uncertainty, and at times inexplicable happiness when strangers mistook me as a man.
In 2015, I came out as nonbinary via a social media account that only a few friends knew about.
Six months later, I came out to myself and my close friends as a trans man.
I came out to a classmate by expressing my new pronouns, which was followed by a very confusing conversation because he thought I was trying to say that she/her pronouns didn't exist.
I came out to many of my professors because I was afraid that they would misgender me in front of my classmates.
I came out to several strangers that stopped me on the street to question my gender.
I came out to my new employer because at the time my legal name was different than the name I had introduced myself with.
I came out to a little girl in the mall, who asked if I was a boy or a girl.
I came out to my therapist, who said that she had sensed masculine energy in me when we first met.
I came out to the woman at the bank to assure her that I was not trying to commit fraud.
I came out to my dear friend in college, who had used the t slur in front of me because he didn't know any better (He apologized and promised never to use the word again, and we're still good friends).
I probably came out to several people at Kinaxis, just by writing this article!
These are only a few examples of how, why, and to whom I've come out. After seven years, I still get nervous when I express my gender or sexuality to someone new. But for every person that reacts positively and for every person that's able to take it in stride, I gain a little more confidence.
Allyship & Pride
Here are a few ways that you can help support the LGBTQ2S+ community:

I asked Chief Strategy Officer and DEI co-chair Anne Robinson what LGBTQ2S+ allyship and support means to her:

"Being an ally means supporting and celebrating the LGBTQ2S+ community in real ways: It means looking at things through a different lens than our own experiences, calling out and protecting against discriminatory practices, and taking it upon ourselves to be educated and aware. It's an incredible privilege to be involved in positive change and to be part of creating an inclusive company culture. Pride month is a good opportunity for everyone to be reminded that discrimination still exists and that the LGBTQ2S+ community continues to face challenges, in society and in workplaces. We all have a role to play, whether it's in our day-to-day interactions, recognizing and confronting micro-aggressions, promoting positive education and awareness, or influencing policy and programs. Who we are is grounded in our belief that people matter, and so I want to encourage everyone to be an ally, during Pride Month and beyond."

— Anne Robinson, Chief Strategy Officer, Kinaxis
If you have any questions or would like to talk more about any of these issues, please get in touch with me on LinkedIn.